The 2×4 (Two by Four) Gravel Circuit Race
Sunday, March 20th, 10AM
Camp Ondessonk, Ozark, IL

Event Overview
ONLINE REGISTRATION IS CLOSED, Day of Registration will open at 8:30A
The 2×4 Gravel Circuit Challenge, the most challenging Cannonball of the series, with a ~2+ mile course that has over 250' of elevation gain per lap…..you choose 2 hours or 4 hours of FUN; the person with the most laps wins. Race this one by yourself or with a teammate and bring your cheering squad as this is the most fan friendly gravel race in the country with great opportunities to watch the race happen all over the course. Bonfires, hooting, hollering, a great post-race meal, in-race nutrition support including hot drinks, a BYOB friendly racecourse and a heated rest area/race HQ, everything you want for a great gravel race.
The racing starts at 10AM on Sunday, 3/20/21, the official last day of winter, at Camp Ondessonk in Ozark, Illinois. Race HQ, which has been updated for this year, is the St. Noel Lodge and it will open at 8:30AM.   If you were at the race last year, you know of "the stairs" that were right before race HQ, this new venue for HQ has eliminated that challenge and now all riders will be able to stay in the saddle for the whole course, unless of course you run out of gas on one of the big climbs.   As you arrive at camp the first building you will see is the St. Noel Lodge, check in there, sign your waiver, get your bib number and review the course in person.  The ~2 mile circuit has plenty of elevation, two optional creek crossings, and a small bridge over the third (so if you want to stay dry this year you can) and tons of gravel, providing one of the most challenging gravel races in the Midwest.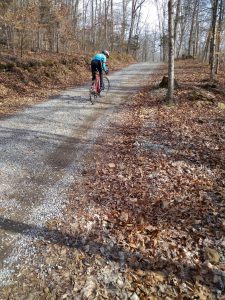 The post-race meal will be served at race HQ starting at 12:15PM for the 2 hour racers and again at 2:15PM for the 4 hour racers. During the race we will have warm drinks and fresh fruit at race HQ for all racers and registered guests.
Guests you say? Yes, bring your friends and family to this one, the course is great for observing and Camp has tons of great hiking and riding to make sure they have their own fun adventure. We will have bonfires, warm drinks and the heated race HQ to keep them warm and toasty while you race, or if they are the more adventurous type we will have maps of the trails at camp so they can get out and enjoy the great outdoors too. All registered guests also get in on the great post-race meal. $15 per guest and 5 years old and under are free.  And if you would like to spend the night before or after the event, hit up Camp Ondessonk for info on their many lodging options from tent camping to nice rooms in the lodge.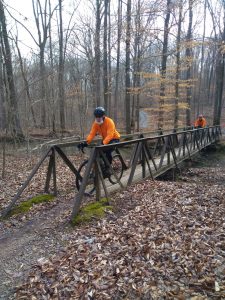 The podium ceremony will happen post-race recognizing the top three overall females and males for each age group (up to 15) (16-19)(20-29)(30-39)(40-49)(50-59)(60+), top three overall male and female, and top three teams male, female and co-ed for each race.